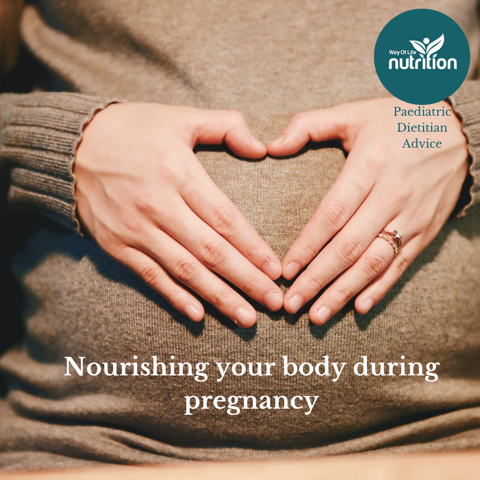 Nourishing your body during pregnancy
Pregnancy is a time of so much change for you and your body. Ensuring that your body is well nourished during your pregnancy is important, not only for your health, but for your little one as well.
If you are trying to conceive, iodine and folate are important supplements to start adding to your regime. It is recommended that these supplements begin 3 months prior to conception or at least as soon as you find out you are pregnant. They play an important role in decreasing the risk of your baby developing a neural tube defect. Once you become pregnant, taking a pregnancy multivitamin each day is a helpful way to assist you in meeting your micronutrient requirements, particularly in the first trimester if your core food group intake is inadequate due to morning sickness or fatigue. Upon consultation with your doctor and pathology reports, other vitamins may be prescribed such as iron and vitamin D.
So, what about food? How much do we need to eat each day to nourish our body and our growing baby? A great place to start is the Australia Guide to Healthy Eating: Pregnancy and Breastfeeding Guide. This takes you through each of the five core food groups; breads & cereals, meat/alternatives, dairy/alternatives, fruit, and vegetables and how many serves are recommended per day. Each core food group provides our body with a whole host of nutrients, so eating a variety of foods from each group will help in keeping your body nourished as well as providing the nutrients needed for your bub to grow and develop. For access to these guidelines, click the link below:
https://www.eatforhealth.gov.au/sites/default/files/content/The%20Guidelines/n55h_healthy_eating_during_pregnancy_0_0.pdf
If you are in the first trimester and having a difficult time navigating food because of nausea and/or vomiting, there are a few tips that may help:
eat small amounts more frequently (an empty stomach can make nausea worse)
eat plain healthy carbohydrate foods (e.g. dry wholegrain toast, wholegrain crackers or plain wholegrain cereals)
avoid foods and smells that make your nausea worse
avoid spicy and fatty foods
stay hydrated
get plenty of rest when you can (easier said than done some days!)
If you are vomiting several times per day, struggling to eat much or keep fluids down, always seek professional advice from your obstetrician or GP.
Aside from food, a common question that gets asked in pregnancy is how much caffeine can be consumed? The current recommendation is for pregnant women to consume less than 200mg caffeine per day. This equates to approximately 2 coffees per day. However, new research is emerging that suggests that caffeine intake, even as low as 50mg/day may have a negative effect on babies' weight, length, and head circumference. So, while this new evidence hasn't translated to a guideline just yet, it is recommended to limit your intake of caffeine as much as possible (and below 200mg/day.
If you would like some nutrition support and guidance during your pregnancy, please contact our team to arrange an appointment with a women's health dietitian.
Written by Madelin Jeffs APD
Paediatric and Women's Health Dietitian for Way of Life Nutrition
www.wayoflifenutrition.com.au