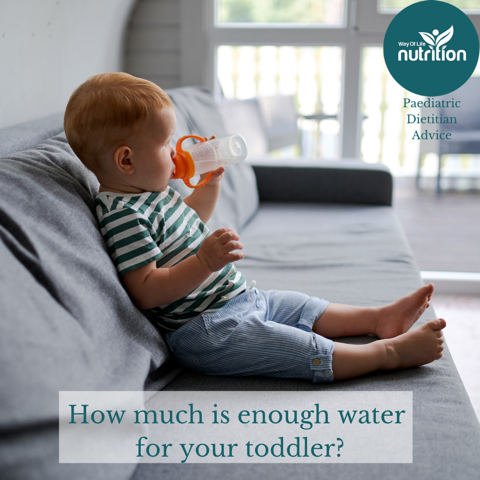 How much is enough water for your toddler?
We often spend a lot of time and energy focusing on how much food we are providing our children. But what about their fluids? It is not often that we speak specifically about how much fluid our little ones should be drinking each day.
Adequate fluid is so important for many different functions in the body, some of which include skin integrity, brain function, regulation of temperature and gut function. So, if fluid intake is low, change to some of these functions can occur. Often in children, a bout of constipation may be the first symptom of inadequate water intake.
So how much is enough for our little ones?
Between the age of 1-3 years, toddlers should be aiming for approximately 1L fluids daily. By the time they reach the age of 4, this will increase to 1.2L/day. 
Monitoring your little one's fluid intake can be difficult at times. Between the half-drunk cups and the water bottles that go missing, you may be left scratching your head at the end of the day. So, what do we recommend? Providing a cup (or bottle) of water with each meal and snack is a great way to encourage fluids and monitor intake. Having a bottle of water or a water station, accessible to your little ones throughout the day, enables them to help themselves as needed. Taking a bottle of water if you are heading out of the house or spending time in the garden is also important.  Sometimes they can get distracted and forget that they need to drink, so sometimes a gentle reminder is needed!
The main fluid source for toddlers should be water, however, milk should also be included daily for protein, calcium, b12 and other important nutrients. It is important to remember that milk should not be their main fluid (unless medically prescribed) as it is very filling and may disturb their appetite for food. It is also recommended that fruit juice and soft drinks be limited in their diet, as they are high in refined sugars, offer little to no nutrition and may also decrease their appetite for food. 
So, offer water often to your toddlers and if you are concerned that they are not getting enough fluids, speak with one of our friendly Paediatric Dietitians for individualised advice. 
Written by Madelin Jeffs APD
Paediatric and Women's Health Dietitian for Way of Life Nutrition
www.wayoflifenutrition.com.au