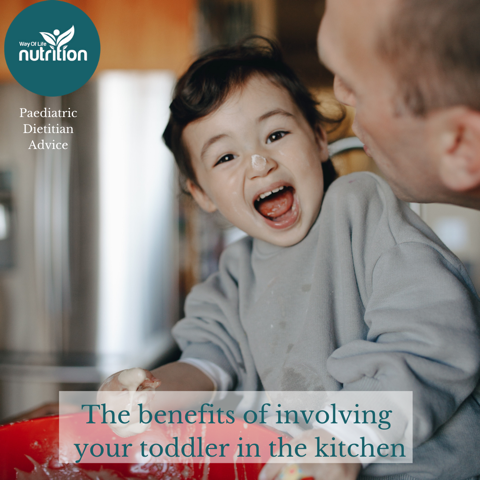 The benefits of involving your toddler in the kitchen
If you have had your kids in the kitchen with you before, you know that it can be a very fun and very messy time! As tricky as this mess can be sometimes, we are here to encourage you to keep going and assure you that you are creating a very important experience for your little ones… and this is why!
Children that are involved in the kitchen, whether it be baking, packing lunch or preparing the dinner meal, are more likely to eat the food prepared and try new foods. The younger this starts, the better! It is all about exposure.
Your little ones may also be more likely to eat foods during the preparation stage than at the table, particularly vegetables (think less pressure and more on their terms)! So, chop a few extra serves, they might just surprise you!
Cooking in the kitchen together is a great place to talk about different foods – their taste, texture, smell, and colour. Again, the more exposure they have to different foods, the more comfortable they are with them and the more they see you eating them, the more likely they are to try them.
When it comes to developing their fine motor skills, activities in the kitchen can provide a very valuable experience. Stirring, rolling, squeezing, spreading, and chopping are all important skills for our little ones.  
Spending time in the kitchen is also a different opportunity for toddlers to express their creativity. This may be through the way they present a plate of food, different shape cookie cutters they may want to use (e.g., fruit and vegetables) or through the way they want to add different elements to a recipe. 
Perhaps most importantly, you are teaching them a lifelong skill. Their ability to cook as an adult will stem mostly from what they have learnt in their childhood. 
So, while it may be more time consuming and some days a lot of patience, it is such a worthwhile experience to have your kids join you in the kitchen, even if it is only once per week. 
PS. we always encourage supervision of little ones in the kitchen for safety!
Written by Madelin Jeffs APD
Paediatric and Women's Health Dietitian for Way of Life Nutrition
www.wayoflifenutrition.com.au