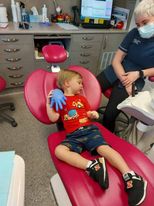 Your Baby's First Dental Visit
According to the Australia Dental Association, a dental visit is recommended when your baby's first tooth becomes visible or when they reach 12 months old – whichever comes first.
If you notice anything you think is out of the ordinary before this time, however, it is best to book an appointment straight away.
From my experience, the easiest way to introduce your baby to the dentist is to bring them with you to your regular six monthly dental visits. It is usually easiest to come together with your partner or family member so you can tag team caring for your little one while the other person is in the dental chair.
When you arrange your appointment, as a courtesy, mention you will be bringing your child with you and would it be ok if the dentist looks at their teeth. This way the dentist can be well prepared to spend the appropriate time with you and your family.
Bringing your child regularly with you will introduce them to the dental environment with a positive experience rather than only if a trauma or problem is present.
It can obviously be a challenge for the dentist to view a 1 year old's teeth but their visit could be as simple as sitting in the chair or going for a "chair ride" or playing with some toys while in the dental surgery. As each six month appointment occurs, more and more can slowly be introduced, which allows confidence to grow and therefore the child being comfortable in the environment. A full check up and clean should occur by age four and continue every six months after this. This treatment will obviously be determined by the willingness of the child to comply but tends to be easier for the child and parents if they have already been coming regularly.
Other really important tips to remember when you are talking to your child about their teeth or visiting the dentist.
Try and keep it positive language and encouragement from the start
Always give your child over the top praise for brushing their teeth at home, make it fun and exciting 
Always have a baby toothbrush around with their other toys (under supervision) or at bathtime.
Remember they put everything in their mouth so they will get used to the feel of the bristles this way. 
Let them watch you brush your teeth frequently. Children love to mimic us and so we should demonstrate a good example to them. 
If you have an electric toothbrush, let them watch you and likely they will see it as fun and exciting and open their mouth to feel the vibrations.
Remember to always use a different head for them as you don't want adult toothpaste residue on the toothbrush head. 
Do not say "if you do not brush your teeth, you will have to see the dentist" or similar
Do not tell your child to be brave
Do not bride your child 
Do not tell your child it will or won't hurt
Do not use the dentist as a punishment at home or a deterrent 
Do not be anxious yourself 
During play time at home, role play visiting the dentist and practice opening their mouth and counting their teeth.
All of these steps will help you and your child to have the most relaxed and comfortable time when visiting the dentist.
You may ask "when should I start brushing my baby's teeth?"
The answer is straight away.
Before your baby has teeth, you should be using a wet face cloth to wipe their gums two times per day.
Also introduce a soft bristle baby toothbrush when you feel they are ready (4+ months) so that they can get used to the texture of the bristles on their gums.
No toothpaste is required until approximately 18 months old when low fluoride toothpaste is recommended at this time. Prior to this age, water and a baby toothbrush or face cloth is all you need.
Give your baby lots and lots of praise every time they open their mouth to get the toothbrush inside and then they will continue to realise they are doing the right thing. It is all about creating an association and habit in these early days.
It can be difficult at times if your child purses their lips or does not open voluntarily, continue to encourage them and keep trying. Never let your child go to bed with milk on their teeth as this increases their risk of decay and therefore you should adapt your routine accordingly.
Remember however, even if your child is resistant, you still need to clean their teeth for them twice a day.
Written by: Dr. Allison Woodhouse B.O.H D.Sc, Grad DipDent
Cosmetic and General Dentistry 70-72 Thomas Drive Chevron Island (07) 55922866