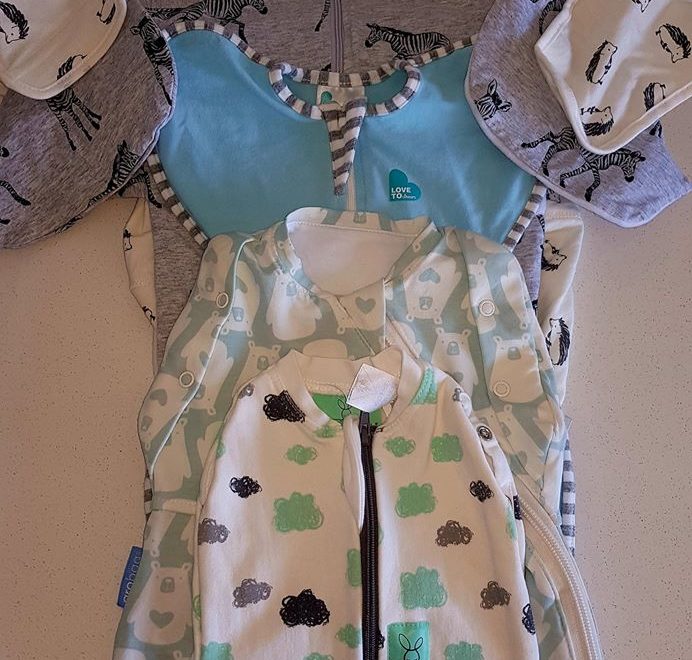 Swaddles!
Is it no wonder parents are often overwhelmed and confused with all things parenting.
Swaddles/wraps are just the starting point.
This is a photo was taken during a P2B private antenatal class today. These are just some of the swaddles and wraps that these soon to be parents had purchased. Yes, they had more (found after the photo!).
Those who have done my classes and/or sleep and settling know I am not a big fan of the Love to Dream swaddle. If they work for you and your baby … fabulous. Keep using them. I'm not a fan because your baby can and will startle, they suck their hands through the material and to get their hands out you have to buy more (a very expensive adventure). From a sleep perspective, I like one hand out by no later than 6 weeks.
I recommend the Ergococoon: these sleeping bags allow for the flexibility of a sleeping bag and easy transition to hands out as your baby develops.
At the end of the day the type of swaddle you use doesn't matter. What does matter is pretty basic….
What is the secret????
Don't over think the swaddle.
PICK ONE! Don't swap and change. It will only confuse your baby and yourself.
Imagine for a second, if I came into your home and took away your bed. Every night you slept somewhere different? How well are you going to sleep? Your baby is no different.
Remember that babies thrive on repetition and consistency.
Be consistent, stick to the SAME bedtime routine – day AND night.
* The information contained in this website is for general information purposes only. The information is provided by Parents2b and while we endeavour to keep the information up to date and correct, we make no representations or warranties of any kind, express or implied, about the completeness, accuracy, reliability, suitability or availability with respect to the website or the information, products, services, or related graphics contained on the website for any purpose. Any reliance you place on such information is therefore strictly at your own risk.