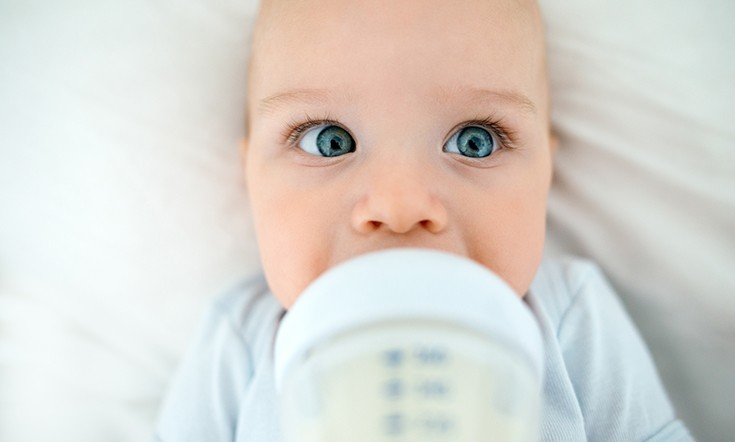 Introducing the bottle – when is the best time?
This collection is also very common in houses with a breastfeeding bub whose mum is returning to work. Trying to get a breastfed baby to take a bottle can have it's challenges. Many parents try multiple bottles with little success.
So what's the secret?
Unfortunately there isn't one.
You may not agree with P2B recommendations …. and that's ok. What works for one family may not work for another. That's parenting. You need to do what works for you.
Because sucking from a bottle is very different to breastfeeding, P2B recommends that from around 3 to 4 weeks of age parents offer their baby, just once a day, about 20mls of expressed breastmilk and/or formula (personal preference).
This bottle is NOT to substitute a breastfeed or drop a feed (unless that's what the parents want).
By offering/adding the bottle into the baby's routine, if and when you may need to give a bottle, the bottle will be familiar and they won't have an issue taking a full feed. It's like a safety net.
BUT BE WARNED! Another common scenario is parents do this and after a few weeks think "my bub takes a bottle" and they stop offering it. Then 1 week or 1 month later try again and the bottle is refused.
You don't become a runner by running once. You become a runner by running everyday!
What time do you give it? That's up to the parents. The afternoon witching period is a good time, especially if your baby wants to cluster feed. Also a great time for your partner to get involved when they return home from work. Pre bath!
If your little one is older, try facing them outwards with a distraction (TV, outside, something interesting to look at) and offer the bottle.
Another option to consider (age dependent) is a cup or sipper.
What is the best bottle? A bottle is a bottle. Just pick ONE! Pick and stick. Changing the bottle only confuses your baby.
Hope that helps!
* The information contained in this website is for general information purposes only. The information is provided by Parents2b and while we endeavour to keep the information up to date and correct, we make no representations or warranties of any kind, express or implied, about the completeness, accuracy, reliability, suitability or availability with respect to the website or the information, products, services, or related graphics contained on the website for any purpose. Any reliance you place on such information is therefore strictly at your own risk.