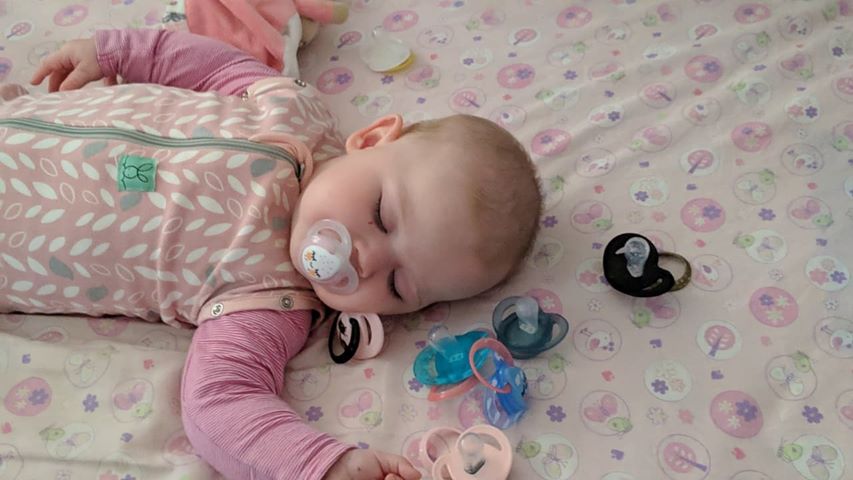 Parents biggest fear … Ditching the dummy!! BUT it doesn't always have to be
Parents biggest fear … Ditching the dummy!!
BUT it doesn't always have to be! 
If you don't want to ditch the dummy here's what you need to do:
1. P2B encourages dummy play.
If you keep inserting the dummy for your little one how are they expected to learn how to do it themselves? You are enabling them to learn this skill.
Removing all toys from your little ones play mat (P2B encourages this play time to be done about 15 minutes prior to sleep), sprinkle 6 to 10 dummies around them and let them play, explore and find the dummy.
I explain the dummy play to parents as 'you don't become a good runner by running once or not running at all – you become a good runner by running every day' (maybe I should run more than once a month … but back onto the topic!)
The more playtime your little one has with their dummy, the more practice they have finding it and getting to their mouth the more proficient they will become which leads to them being able to insert their own dummy. = WINNING!
Which leads me to my next recommendation:
2. Load the cot with dummies!
Once they can master finding the dummy then load their cot with dummies during sleep time.
BUT remember… there needs to be multiple dummies in the cot. Could you find 1 dummy in your bed in the dark at night???? The size ratio would be similar of an adult in a queen bed v's a bub in a cot trying to find that 1 dummy. Some food for thought.
Also, during a settle, rather than inserting the dummy for your little one (until they can do it themselves) it will help them more if you put the dummy in their hand and then guide their hand to their mouth. Again, through this process you are helping your little one to learn the skill of self inserting the dummy. By inserting it for them, you are enabling them from learning this skill.
You also need to give them time. When your little one wakes don't rush in to dummy rescue ….. give them a little bit of time to realise they are awake and search for the dummy to self sooth. How long is obviously up to you, but I would ask you …
If they were making that noise under the play gym, would you rush to them and rescue them with a dummy?
If the answer is no .. then don't rescue them in the cot.
At what age can you expect them to self insert a dummy? Anywhere from 4 to 6+ months. All babies are different and develop skills at different times. Your little one obviously needs to have their hands free during sleep time.
Just remember – The more play time they get, the sooner they will learn!