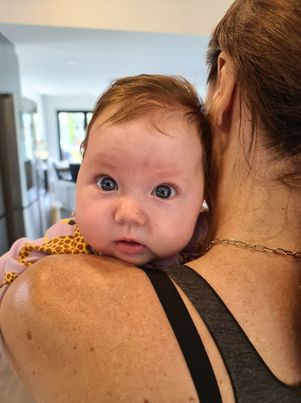 Maddison @ 12 weeks!
So last night I had my gorgeous Goddaughter for her first ever sleep over! I have really missed having a baby in the house. I shared the experience through my social page stories and have had hundreds of messages and questions so I thought it was worth a post today.
Before I start, this is not a service P2B offers. This is my Goddaughter and the baby of one of my closest friends. I wanted to share Maddison's story with you to help answer everyone's questions.
Yes, last night Maddison slept 13 hours and 10 minutes. Yes, she did wake about 4 times, only briefly, had a chat to herself, a bit of a grizzle and then sucked her hand before she went back to sleep. She was sleeping for the first time away from mum & dad, she had never slept in a portacot prior and was next to me all night. We did not have the air-conditioning going. She was dressed in a singlet, long sleeved & leg onesie, feet in plus socks, a 1.5 sleep bag, a bamboo cellular blanket slightly cocooned but tucked in and a light blanket over the top, again tucked in. For reference I live on the Gold Coast.
Some facts about Maddison!
Maddison is 12 weeks old.
She is the daughter of Drew (Dr Drew Moffrey) and Tacha.
I have visited the family weekly since her birth.
She is exclusively BF and has never had formula.
From birth we swaddled 2 hands down with a @bowymade swaddle.
From 3 weeks we swaddled 1 hand out.
From 12 weeks we transitioned to the sleeping bag with both hands out.
Tacha has expressed every morning 30 minutes after the first BF of the day to established a supply of frozen EBM (for nights like last night).
We introduced a 30ml bottle pre bath of EBM from day 10 to familiarise her with the bottle.
We have always (and still are) breastfeed 3 hourly during the day and have left Maddison wake naturally overnight.
Can a EBF baby sleep through the night at 12 weeks. YES!
Maddison has had a bath every night as part of her bedtime routine from 3 weeks of age.
She has done tummy time = weeks of age = minutes = 3 times a day from coming home.
We have always stuck to the recommended awake times (see my table in post).Maddison had always gone down awake (except if mum wanted a snuggle/contact sleep… because that is more than OK).
Maddison has always slept in her cot when at home (excluding contact sleeping).
We have assisted settled her in the beginning and over time faded that assistance out as she has not needed it.
Maddison has never slept in a blackout room.
She has never had white noise or any sleep associations except her swaddle, now sleeping bag.
Every time she has gone to bed the routine has always been the same. Nappy, swaddle, long cuddle and down awake. We have recently added a book and moved to the sleeping bag because she is older and needs that longer winddown.
Mum takes her swimming, shopping and all those day to day activities and if it is time for her sleep, mum will swaddle (now sleeping bag) and pop Maddison down in the pram for her sleep. Sleep when out and about sleep is a bonus, it is what it is. By working with me, mum now knows that when home, Maddison will be tired from a poor out and about sleep so she will extend the winddown when home to help her because she is overtired. An extra book, longer cuddle and she doesn't rush through the routine.
Does mum run to her the minutes she hears she is awake? NO! We have always given Maddison the chance to put herself back to sleep.
Does this mean she has had to cried it out. NO WAY & NEVER. 2 or so minutes initially and then we have always gone to her with an age appropriate settle.
Once Maddison has started to fight some of her sleeps, we have reviewed her routine and change it as needed .
Mum, as all of my parents on the P2B postnatal package, can ask me questions/advice in-between visits. Tacha has most definitely done that. Better to work it out straight away than leave it for days, weeks and often months as many parents who contact me have!
Has Maddison ever been rocked or fed to sleep – YES of course she has, she isn't a robot or unicorn baby.
Has she has bad days and mum/dad have struggled – YES of course she has.
But the family have been supported and little Maddison is a credit to them.
Did they just get lucky. Hell no! Don't think all of the above has come easy.
It has taken time, patience, consistency and support. You should always parent in a way that suits you, do what works for you.
Just because Maddison sleeps through the night, it doesn't mean your little one has to.
The above are P2B recommendations.
Take on board what you want/need and disregard the rest.