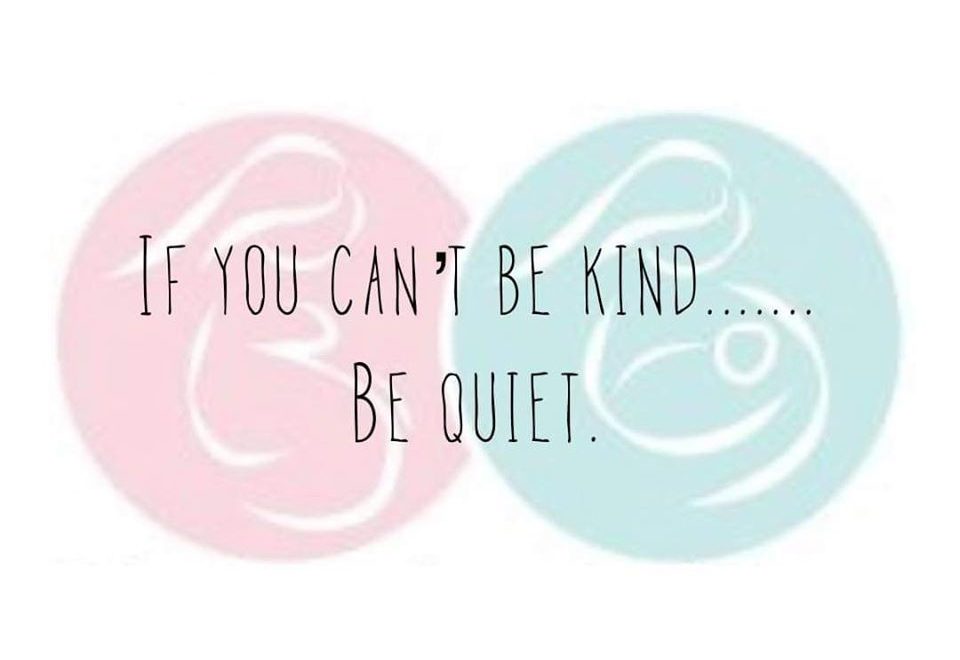 If you can't be kind .. be quiet!
Over the past few weeks P2B has been chatting to more and more parents feeling overwhelmed with all the 'opinions' being thrown their way on how they should and should not be parenting.
Who hasn't been there?
EVERY.SINGLE.DAY I hear the same story; or read similar comments on FB or IG threads.
Insert warning…. maybe a little rant to follow!
Last week alone poor 'Sharon' was being publicly outed on a post because she didn't agree with what someone else had posted. Maybe Sharon was let down by her village experience? Did Sharon really need to be publicly outed? NO. Sharon's opinion is hers, just like the person who did the original post.
Every mum should be able to have their own opinion without judgement. Every mum should be respected for their opinion.
'Emma' a P2B mum suffering from postnatal depression, opened up to her girlfriend this week that she is sleep training her little one. Rather than the support she thought she would get she was met with that is 'awful' and 'cruel'.
I respect this mum. She is doing what she needs to for her family. Every parent has the right to parent as they choose, the best way they know how for their own family.
I recently read a 'pro breastfeeding' post. What got my attention was NOT the pro breastfeeding post itself BUT the comments made by others on the thread. There were thousands and thousands, and I mean thousands of comments from women who, in 80% of the comments, were basically attacking each other.
The pro breastfeeding mums did not have nice things to say about formula feeding and the formula feeding mum's attacking the breastfeeding mum's for making them feel guilty for not being able to breastfeed. One mum commented that she tried everything, and her supply was just never enough for her baby to thrive. On her thread she was bombarded with responses ranging from 'you didn't give your baby enough time at the breast'; 'to you shouldn't have given formula in the first place'; … let's not go any further as you get the idea.
Again, every mum should be respected for their choice of feeding. Is their little one is thriving? Is there little one loved and happy? Is that not all that matters?
And don't get me started on the conspiracy theories and immunisation threads….
Again, respect each other.
We all have opinions and although they may not be in line with yours that is OK.
Is another mum wrong because her opinion doesn't agree with yours? NO. Is your opinion wrong? NO.
You just parent differently.
I am going to throw out a challenge to the P2B community….
Write your own story!
If someone says, does or posts something that does not resonate with you and your parenting style …. STAY SILENT!
Take a deep breath, keep scrolling and move on.
Trust me, it sometimes takes every muscle in my body to take a few deep breaths and keep scrolling.
If you have to say something I challenge you to say something like;
'I am proud of you for doing what you need to do for YOUR family'.
No, what they are doing may not resonate with you and your parenting beliefs, but trust me, to another mum it may be the words she needs to hear.
Remember she is doing what she needs to for HER family!
Unlike a page that doesn't fit your parenting style.
Start following ones that do.
Don't waste your energy on reading posts that don't suit your parenting style.
Parenting is hard enough.
Write your own story and let others do the same!