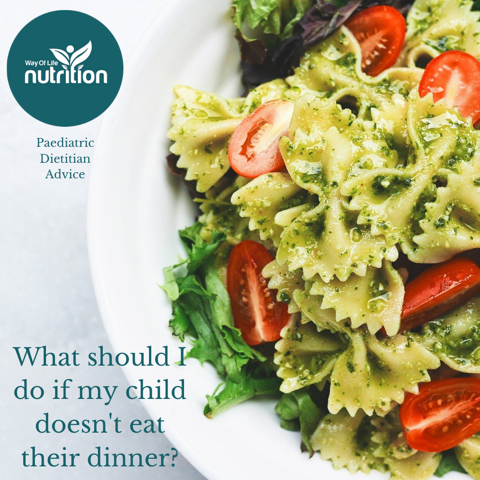 What should I do if my child does not eat their dinner?
Another informative blog written for P2B families from our resident Dietitians from Way Of life Nutrition!
What should I do if my child does not eat their dinner?
This is a great question that our Paediatric Dietitian's get asked all the time. We understand it can be very disheartening when you have spent time in the kitchen lovingly preparing a nutritious and delicious meal, only for it to end up being rejected.
So what should you do in this instance? It seems like there should be two options… take the meal away and replace it with something else OR take the meal away and dinner is finished. But you will be pleased to know we have come up with some more practical options to help ease this potentially stressful moment:
Have a think about the gap before dinner. When was the last snack? Try to leave 1-2 hours before dinner without food (sips of water only) to try and improve your little one's appetite. Their tummies are so small, so try and maximise their desire to try their dinner by making sure they are hungry.
Try your best to sit down and eat dinner with your child. This can be tricky if they have an early mealtime, but it really does make a big difference. You could even have an entrée sized meal, then have the rest of your meal later at your preferred time. The reason for this is that children learn so much from watching their parents/carers eat; from seeing them eat the nutritious food, which can help to ease any concerns they have about food on their plate. It also allows the opportunity for you to demonstrate appropriate mealtime manners.
Try to stick to water at dinner. Other fluids like milk, smoothies, juices etc can be very filling for little tummies, not leaving much room for food.
Get your child involved with deciding what is for dinner, and in the food preparation. This is obviously age dependent, but just showing them the recipe you are cooking or getting them involved in preparing the vegetables can make a big difference.
Create a positive eating environment. Limit distractions at mealtimes by putting phones/devices away from reach. No toys at the table and no distractions like the TV. Some gentle background music can be a nice addition to mealtimes (and can help with everyone's mood if it is feeling a little stressful).
Be mindful of the meal portion size. Some children can feel overwhelmed with too much on their plate, but when given small amounts at a time find this much more achievable.
Be mindful of the bite sizes on their plate. Large pieces of food chopped into bite size pieces can be much more desirable and achievable for a baby or toddler, than larger pieces that can be harder to hold.
Try your best to always remain calm. Children will pick up on your stress levels by the look on your face. If you are frowning at them or talking in a stern voice, it can make them feel that mealtimes are stressful and negative. Try your best to put a smile on your face and remain positive. For example, with a gentle smile and voice "This is what Mummy has made for dinner today. Can you see the x y z on your plate? It looks so yummy. It is your choice if you would like to eat it. Mummy is going to have hers now; yummy!".
Remember, it is your job to provide the healthy meal, it is your child's job to decide how much they eat. So, if they choose not to eat, respect their choice. Calmly take the meal away or move it to the side and continue to eat your meal.
Depending on their age, I would recommend they sit at the table for some of the mealtime to observe you eating your meal and for the social interaction, so that they remember it is a positive place to be. Sometimes children will maintain their choice and still not eat for the remainder of the mealtime.
Sometimes they will "give in" and decide to try a little (which provides a fantastic opportunity for you to provide positive praise). But if they decide to not eat, that is OK. Stay firm with what is for dinner.
If you are very concerned about the amount of food they have eaten leading up to bedtime, perhaps consider a nutritious supper before bed. However, this needs to be separate to dinner and not because they haven't eaten dinner (ie. make it a regular part of their routine).
Tried these tips and not getting anywhere? Is your child refusing multiple meals and having problems with their growth? From our experience, the sooner you get on top of tricky eating behaviours the better. Getting advice and support from a Paediatric Dietitian might be just the thing you need.
Written by Janita Averay APD
Paediatric Dietitian and Director of Way of Life Nutritionwww.wayoflifenutrition.com.au