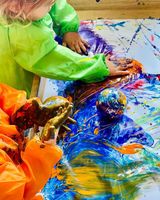 Tips For Starting Childcare!
Michelle from P2B sat down to chat with Debra North from The Nest Early Education Centre on starting childcare for the first time, the different ways to make to make this a positive experience and the things you should look for when choosing a centre for you and your family.
Sending your child to childcare when you return to work is a difficult time for many of our families. You have spent literally every waking moment together for the past few months and now you face the prospect of being away from your beautiful baby for hours and hours each week! My many decades of experience in this field have taught me that by supporting our families well through these first few months, we really can set them up for a positive early childhood journey and a great relationship with our profession.
We have a very unique skill set where we not only have the responsibility to foster the early learning journey of our young children, but we are now an important support network for our families who attend our early learning centres as well.
Starting care is a highly emotive time, there are lots of different tips and strategies that we recommend during the first few months. Some babies and families settle beautifully, while others take a little longer to adjust. There is no 'normal' and each and every family comes to us with a different set of circumstances; you need to find a centre that accommodates YOU and your family.
So how do my families navigate the first few weeks?
Visit as many early learning centres in your chosen area that you can. Some will only take you at a booked time, others will allow you to walk in off the street and see the inner workings in an authentic manner. It's important to meet the teams that will be forming a relationship with you and your family, do your values align, can you talk to them easily, are they warm and
welcoming? Recommendations from others is often a good place to start your research, talk to the families from mothers' group, swimming lessons, your co-workers etc, they will often tell you the honest truth about their experience, so it's a great place to begin your journey.
Start gradually…. We encourage our families to have a gradual start with shorter days, orientation visits and play mornings/afternoons. It not only lets us get to know you and your child, but you also get to know us during this time as well. We see many of our families start the transition period a few weeks prior to their return to work. We encourage our families to do
mini visits where we suggest you drop your child at the centre, have a coffee, do the groceries, etc and then return. Try this again the following week but extend the time a little longer, including a mealtime or morning tea.
Have a written routine ready to hand over… we encourage all families to bring in the routines that they are currently using; sleep routines included! We display these in the rooms for all of our teams to follow and it gives us a really great tool to ensure the transition period is successful and that we are an extension of your home environment. Consistency in your child's routine in the centre will ensure you have a well-rested baby at pick up time, so every little thing you do, write it down so it can be shared amongst the teams. Obviously, this routine will change over time and its important to keep the centre updated when the changes occur.
Communicate Communicate Communicate… Let us know everything about your child. Most centres will have a daily communication book or journal where information can be recorded and shared. We find that this is the best way to fully accommodate the needs of both you and your child. We use this tool to share the highlights of the day, let you know of any sleep progressions, a meal or new food they enjoyed etc. Your child's lead educator may not be there at pick up time, so it ensures that the important information you will need when you get home is there for you.
Don't prolong the drop off – have a set routine that you follow each time your drop your child into care and try to stick to it. Say goodbye, let them know you will be coming back and don't look back! It isn't easy and we have great empathy for the emotional struggle most new families have with the drop off, but it does get easier. Experienced educators will know and sense the time to step in and assist with the handover; the children usually stop crying before you even get to the car! We do encourage you to call through as many times as you like to check in, we know how to distract the children, comfort the children and ensure they are settled and ready to enjoy their day with us.
Ensure you are organised the night before. The morning juggle is real and the calmer your morning runs, the calmer you will feel by the time you get to work. We also suggest that you keep your home life fairly quiet and simple in the first few weeks of starting care. You may be tired with the return to work and your child may also be a little unsettled with the change to routines, so restful weekends spending time together and relaxing is highly recommended.
Try to build your village around you prior to going back to work. It is a reality that your child may get sick in the first few months
of starting care and you may need help to assist with the collection of your little one if you cannot get there. We encourage our families to have a number of trusted people listed on the enrolment form for times when you cannot leave work right away to collect them.
Apply for the Child Care Subsidy (CCS) via your MyGov Account as soon as you know you will be sending your little one to childcare. It really helps if it is all set up and ready to go for your child's first day; you will be getting the subsidy from day one and reducing the financial burden of paying full fees until the subsidy comes through. The entire process can take from between
four to six weeks, so its beneficial if you get a head start on this. This subsidy will be paid directly to your childcare centre to give you a fee reduction; you will end up paying the difference between your subsidy and the full fee charged by your centre. All quality early learning centres will have management onsite that can assist you with the process, so if you are unsure, just call and they should be able to walk you through the process.
If there was just one tip what would it be?
Be gentle on yourself, we see many tears and feelings of guilt expressed by our families when the impending return to work deadline is reached. Enjoy all the new things that starting childcare can bring into your life. You child is starting to build a sense of resilience and develop the ability to form positive and trusting partnerships outside the family home; important lifelong skills that will give them confidence with social interaction. They will also have the opportunity to build on their physical and cognitive skills, engage in play-based learning programs that will teach them problem solving skills and develop their creative intelligence. There is clear evidence that engagement in a high-quality early childhood learning program is beneficial for all children, so find the right centre, surround yourself with the right team of early childhood professionals and your return to work
can be positive for both you and your child.
For more information about starting care go to
https://www.startingblocks.gov.au/other-resources/factsheets/preparing-for-child-care/
https://www.startingblocks.gov.au/other-resources/factsheets/building-strong-links-between-home-and-child-care-services/
https://docs.education.gov.au/system/files/doc/other/what_is_the_child_care_subsidy_1.pdf