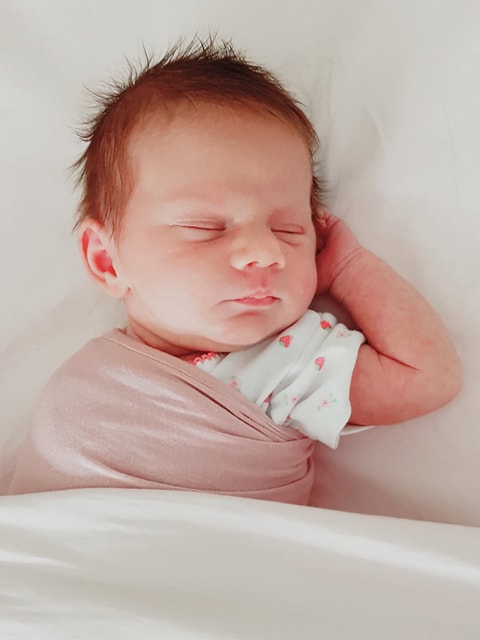 P2B preferred swaddle
Check out Miss A at 2 weeks of age rocking P2B preferred swaddle.
Yes that is one hand out. Yes she is 2 weeks.
Now before I explain why …
Remember this is only a suggestion, like anything I recommend – it's a recommendation from what I have found works well.
If it doesn't resonate with you, if you don't think it will work for your little one – that is 100% OK.
Now, let me explain the why …
I find (most) baby's like the freedom of one hand out. Remember they had 2 free hands in utero (during pregnancy) where they could suck their fingers, have their hands to their face and flap around.
Having a hand out early allows them some familiarity, a hand to suck on if need be to self sooth. P2B also finds a hand out early makes an easier transition to 2 hands out when rolling (around 4 months).
2 free arms isn't recommended until later because of their startle reflex (which they don't outgrow until 3 or so months). There ares some swaddles that allow for hand to be semi free …. but I find little ones with a strong startle reflex still startle themselves awake. Obviously, they work well for others (life would be boring if we were all the same).
P2b loves a good stretchy material for the swaddle. Jersey is a great choice! Kmart sell them for $12 for 3 (who doesn't love a good excuse to go to Kmart!).
Swaddle firmly around the torso – ensuring their legs/hips are left free.
As a midwife for many years (not keen to show my age)… I can swaddle firmly. Some parents struggle with this and that's where the sleeping bags become an easier option.
Even with a sleeping bag, I encourage 1 hand out by no later than 4-6 weeks. The Ergococoon is my sleeping bag of choice for this reason. It gives you the freedom of a hand out.
Remember all baby's are DIFFERENT. This swaddle may not work for your baby and that's ok. You have to do what works for YOUR baby!

* The information contained in this website is for general information purposes only. The information is provided by Parents2b and while we endeavour to keep the information up to date and correct, we make no representations or warranties of any kind, express or implied, about the completeness, accuracy, reliability, suitability or availability with respect to the website or the information, products, services, or related graphics contained on the website for any purpose. Any reliance you place on such information is therefore strictly at your own risk.