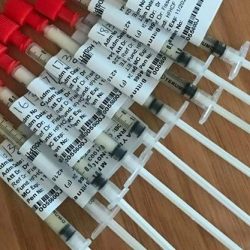 Antenatal expression of colostrum
Before expressing colostrum antenatally it is important to discuss it with your midwife or obstetrician. Some potential reasons for expressing colostrum antenatally include if a mother has:
Diabetes. A baby born to a mother who has diabetes (type 1 or type 2 or gestational) is at risk of low blood sugar after birth. Receiving extra colostrum at this time can help a baby's blood sugar level to stabilise.
Conditions which may make it hard for a baby to breastfeed well, at least in the early postnatal period. For example babies diagnosed antenatally with cleft lip and/or palate, or a neurological or cardiac condition. Babies with these conditions may not be able to breastfeed well and so a mother will need to express her milk to be able to give it to her baby. Expressing colostrum antenatally can mean she has extra on hand if needed. It also gives her practice at expressing before her baby is born.
A family history of cows' milk protein sensitivity or type 1 diabetes. A genetically predisposed baby who receives formula in the early postnatal period may have an increased risk of developing these conditions.
A history of low milk supply. A mother may have had a previous breastfeeding experience where she struggled with making enough milk for her baby.
A condition where a primary low milk supply may be of concern (eg insufficient glandular tissue). A mother with a primary low milk supply may not be able to make enough colostrum for her baby.
An increased risk of having a low blood sugar in the first few hours after birth. These include babies who:
have a mother with high blood pressure
have a mother taking beta blockers to control their blood pressure (e.g. labetalol)
are expected to be small, are twins or triplets
What is the link between breastfeeding and diabetes?
Giving your baby just breast milk and nothing else to eat or drink for around the first 6 months has many health benefits:
Babies who are breastfed are less likely to develop childhood diabetes.
It is thought that cow's milk (the main ingredient of formula milk) can trigger diabetes in some babies; this is probably more likely for your baby if you or your partner have diabetes. Therefore, it is very important that mothers who are diabetic avoid giving their baby formula milk if at all possible until the baby is at least 6 months old.
If you have diabetes and are insulin dependent you may find that you need less insulin when you are breastfeeding and that you need to eat more.
If you have gestational diabetes you are less likely to go on to develop diabetes in later life if you breastfeed your baby.
Why should I express my milk antenatally?
If you are a mother with diabetes, in the first few hours of life your baby may have a short time when their blood sugar is low and they will need a little extra milk. You will be encouraged to give your baby frequent feeds to help prevent this.
It would be helpful if you have already expressed some of your breastmilk so that, if your baby does need extra milk, this can be given to them instead of formula milk. The ideal time to do this is before your baby is born.
How often can I express?
You can express your milk as often as you want to. Start with 3-5 minutes on each breast 2-3 times a day. STOP expressing is you are having contractions at the same time.
How much breastmilk will I get?
The amount of breast milk you get will vary from a few drops to a teaspoon. This small is amount is perfect for your baby as first breastmilk is very concentrated in nutrients and helps your baby to fight infections.
How to store your expressed milk
Some hospital's provide both labels and syringes of antenatal expressing. Always check with them first. Alternatively, you can purchase syringes from your local pharmacy. Each syringe needs to be labeled separately with your full name, the date and time you expressed. Then place the syringe into a small plastic bag – make sure this is also clearly labeled.
You can store milk in the fridge at a temperature of 2 – 4°C for 3 – 5 days, or in the freezer for up to 6 months. If you do not know the temperature in your fridge at home then only store it for 48 hours (or less) in the fridge and then freeze.
When you come in to have your baby don't forget to bring any breast milk you have expressed with you. Ensure you let your midwife know you have it with you and she will arrange for it to be stored in the fridge/freezer.
If your breast milk is frozen, then the best way to transport it is in a cool bag with an ice brick wrapped in a small towel alongside it.
* The information contained in this website is for general information purposes only. The information is provided by Parents2b and while we endeavour to keep the information up to date and correct, we make no representations or warranties of any kind, express or implied, about the completeness, accuracy, reliability, suitability or availability with respect to the website or the information, products, services, or related graphics contained on the website for any purpose. Any reliance you place on such information is therefore strictly at your own risk.